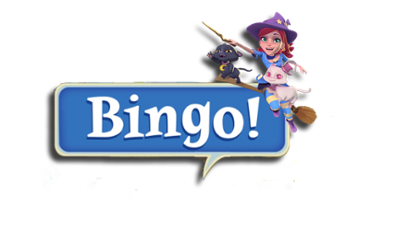 It's time to "Break the bubble" and aim for a 'full house' because it's
Bubble Witch 2 Saga Bingo time!
What is it?
That's right, spell-casters - match your Bingo numbers in a line by meeting the quest tasks in your game and a magical prize will be delivered to you and your team!
By collaborating your bubble-busting skills you will be given a Bingo card to complete, with a reward offered when you make a horizontal or vertical line of completed spits. No diagonals allowed here, I'm afraid! Just rows and columns!
What do I need to do?
From the Bubble Witch 2 Saga game map screen, when Bingo is in-play on the left of your screen you'll see a button marked 'BINGO'. Tap this to open your Bingo card.
The first time you play, you'll be added into a team alongside other players, who'll work together to meet the tasks on the card and claim the best of the Bingo bonuses. You can see your teammates shown alongside your own avatar in the team window at the top of the Bingo screen.
The tasks which you'll need to complete will be will be laid out in a grid square to form your Bingo card. Each Bingo task will act just like a traditional Bingo number on the card and you'll need to form a completed row or column of completed tasks to win the prize. Tap any green 'B' Bingo button to see which task is set and needs to be completed to win that spot on the card. Nero will explain the task and will also show a progress score, to tell you how close you are to completion.
For example, you might be tasked to collect a set number of colored bubbles. Here Nero will explain, and show you the goal number, plus how many you've collected toward the goal so far.
To accept that task challenge, tap the 'Go' button in Nero's description window. Once taken, that task is yours only and excluded from the rest of your team. All teammates can play on the same card but only you will be able to complete a task set to you on the card. So, it's important to be certain which of the tasks you want to choose, as your teammates won't be able to take over! Choose wisely from the available Bingo card spots, to best suit your chances to complete a horizontal or vertical line.
Also, you'll only be able to work on one task spot at any time. Once you've selected 'Go' it's time to get your game-on and work toward the target.
If you want to see how you're doing, you can check your progress toward the goal task at any time, as your own task will always be shown in gold color on the Bingo card, with your teammates' tasks showing as blue. Just tap the gold Bingo button to see how you stand with your task.
Make sure you join in and play - especially if your task is part of a line. Rewards are only issued when the team has completed a full line.
Don't worry if you didn't work on any of the tasks in that line though, as all the team will receive a reward provided you've taken part. This means provided you play any task anywhere on the Bingo card, everyone in the team gets a share of the prize regardless if they played a task in the winning line.
Join in and as soon as a line is complete, everyone wins!
What can I win?
Your wondrous wand waving skills will net you some cool goodies to help you in your game. From Morphing Wands to Lava Bubbles, all those incredible bubble blasting beauties can be added to your collection. All those treats for just playing the game in your usual way - magical!
When can I take part?
As soon as the Bingo sign is visible in your map screen you can join your team in working toward those lines and row goals to a prize. Be sure to check in and keep playing. You'll only receive a prize if you've been playing along in the Bingo and if there's no activity on your Bingo board the card will be changed.